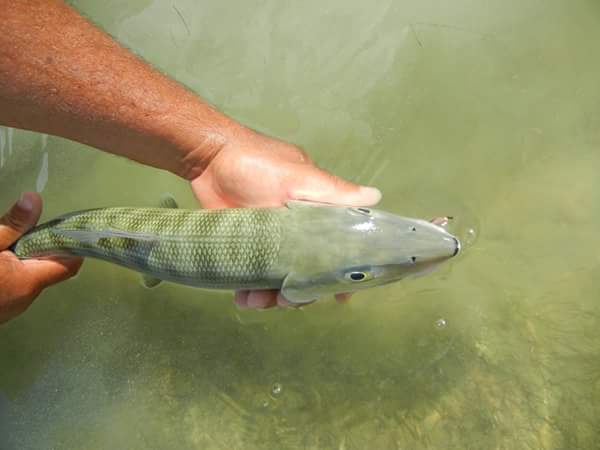 LONG ISLAND BONEFISHING
The Long Island Bonefishing Lodge specializes in "assisted" DIY walk and wade fishing.   The idea is to provide the fisherman with a true long walk and wade bonefish "hunting" experience with the guide offering advice and transportation to and from productive  bonefishing  flats.  It is this  "assisted" DIY walk and wade fishing adventure that we are trying to promote and want to become known for.
The format of an "assisted" day consists of a guide picking up the guests at the lodge dock and transporting them by boat (3 – 10 minute ride) to a particular flat or set of flats where the guide will first instruct the fisherman on how to fish a particular flat, how the tides will influence the fishing during the day and what flies and strategies to use.The guide will remain on the flats at all times and the fisherman will have walkie talkies so they can be in contact with the boat at all times and if necessary the guide will move the fisherman to another flat if they are not experiencing success.
Long Island bonefishing flats consist of mostly hard sand bottom  spotted with turtle grass. At least 70% of Long Island bonefishing flats are wadable flats making it an ideal ' assisted' DIY destination.
Bonefish will be the primary targeted species in mostly shallow (less than 30 inches) water with the occasional deeper drop off.  On average the bonefish are 3-6 pounds with "papa" going up to eight pounds.  Typical fly patterns work with size #4 and #6 being standard.
Other species encountered are barracuda, snapper, sharks and rays.
The links below feature some of the flats experience by previous fishermen that visited Long Island Bonefishing Lodge.
Ankle deep tailing bonfish on fly, Deadman's Cay Bahamas
Fly fishing for ankle deep bone fish, so shallow it beach itself, Deadman's Cay Bahamas